GBF Series
Square Vat Single Fryers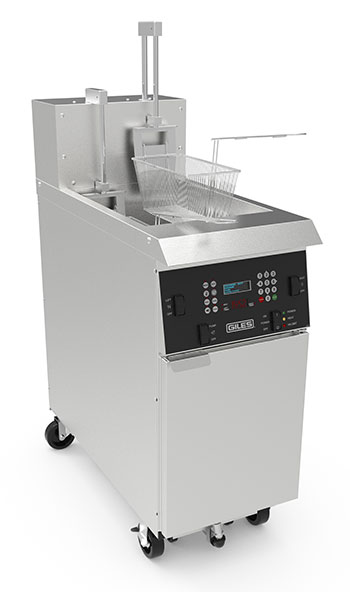 GBF-35/50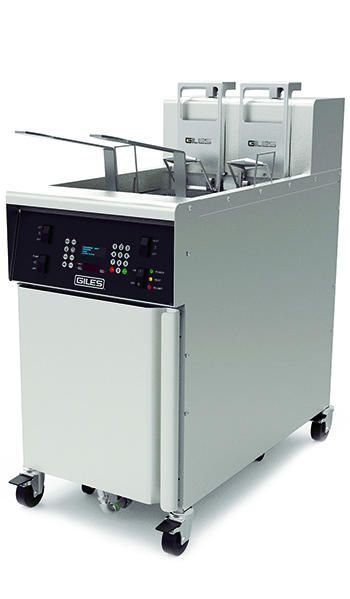 GBF-70
PRODUCT OPTIONS: GBF-35 & 50, GBF-70
Smaller, versatile fryers with plenty of power, but ideal for kitchens with somewhat limited space. Cook a variety of fried favorites quickly and easily. Although smaller these units have rapid recovery time, enabling them to turn more loads so that they can handle those heavier sales periods with ease.
Also available in 2 or 3-well banked batteries to meet the specific needs of your growing food service business that needs to expand the menu or boost capacity.
Plenty of cooking power in a smaller model fryer. Rapid temperature recovery, even when cooking frozen product, yields more turns per day. Computer Controller with an intuitive user interface ... provides accurate control and monitoring. Features: Dual Timers ... Programmable Cooking Presets (50 different menu items), energy saving Cool-Mode ... Force-Filter control ... Boil-Out program ... Low Oil Level detection/shutdown. Continuously monitors fryer for alarm conditions. Optional password security and choice of display language. On-board oil filtration system with powerful 1/2-hp pump for quick and efficient filtering. GBF-35 requires only 35-lbs of oil resulting in lower operating costs ... perfect for fries & veggies. GBF-50 & 70 have deep "cool zones" to prevent carbonization of crumbs, helping to extend oil life and improve food quality. Heavy-duty casters with front locking brakes. Optional Automatic Basket Lifts ... automatically lowers & raises cooking baskets at the beginning & end of cooking cycles ... Basket hanger rack is standard without lifts. Optional Oil Top-Off system allows operator to replenish oil from either an on-board fresh oil supply or from a user-provided bulk fresh oil supply system. Optional Oil Plumbing provides capability to easily, directly connect fryer to a user-provided Bulk Oil Management system ... either fresh oil supply or waste oil handling, or both can be added. Optional KitchenTrac® Remote Monitoring – WIFI connectivity for remote monitoring of your connected fryers ... provides real-time analytics for equipment performance, operational status, sales trends, equipment upkeep & much more.
Model GBF-35 & 50:
Overall fryer width: 16-1/4" Cook vat: 229 sq.in. (14" wide) … oil capacity 35 lbs. (15.9 kg) or 50 lbs. (22.7 kg) of liquid shortening Three power specifications: 18,000W/3-Ph, 10,000W/3-Ph or 10,000W/1-Ph Sustainable, 115-micron, stainless steel filter screen is standard in the filtration system ... eliminates filter paper cost & waste. Product capacity (reference): french fries - 5 lbs. (2.3 kg) ... cut chicken - 7 lbs. (3.2 kg) [35] - 12 lbs. (5.4 kg) [50].
Model GBF-70:
Overall fryer width: 21-5/8" Cook vat: 355 sq.in. (18-1/8" Wide) … oil capacity 70 lbs. (31.8 kg) liquid shortening. Power specification: 20,000W/3-Ph ... (1-phase not available) Product capacity (reference): french fries - 5 lbs. (2.3 kg) ... cut chicken - 21 lbs. (5.4 kg).
| | | |
| --- | --- | --- |
| GBF-35/50 Product Specification Sheet | | |
| GBF-70 Product Specification Sheet | | |
| GBF-35/50 Manuals | | |
| GBF-70 Manuals | | |
| GBF-35/50 CAD Drawings | | |
| GBF-70 CAD Drawings | | |
VIDEOS
| | | |
| --- | --- | --- |
| GBF-35/50 Introduction Video | | |
| GBF-35/50 Control Panel Overview Video | | |
| GBF-35/50 Cooking Process Video | | |
| GBF-35/50 Filtering Cooking Oil Video | | |
| GBF-35/50 Filter Pan Cleaning Video | | |
| GBF-35/50 Fryer Cleaning Boil Out Video | | |