GBF Series
Square Vat Single Fryers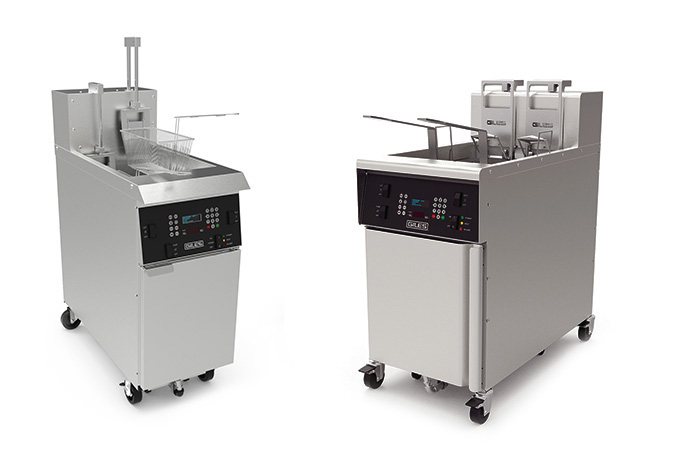 GBF-50 (Single Unit)
GBF-50/2-3 (Banked Fryer Units)
Small, versatile Fryer with plenty of power, but ideal for use in a limited space kitchen. Cooks a variety of fried products quickly and easily. Although small in size, extremely quick recovery time enables it to handle demanding sales periods with ease.
Order a multi-Fryer bank of 2 to 3 fryer wells to customize a unit for the specific needs of your growing food service business. Expand the menu and turn more loads per hour with ease.
Plenty of cooking power, 18 kW per unit.
Can be ordered as a "banked battery" of 2 to 3 Fryer units.
Fast temperature recovery, even with frozen products.
Single unit overall width is only 16-1/4" with a 14" square Vat.
Choose Computer Controller or Manual Controls (Dual Timers & Digital Thermostat).
Computer Controller provides exceptional Fryer control and monitoring. Features 50 programmable Menu Item Presets, AutoCool Energy-saver Mode, Force-Filter prompt, Boil-Out program, password security option, and multiple language selections.
Automatic Basket Lifts can be optionally added on all units.
On-board oil filtration system features powerful ½ HP Pump for quick and efficient filtering … single system serves all units in a "banked battery".
Durable and reusable stainless steel filter screen eliminates filter paper cost and waste.
Heavy-duty casters, front casters have locking brakes.
Model GBF-50:

Oil capacity: holds 50 lbs (22.7 kg).
Product capacity: cooks 5 lbs (2.3 kg) French Fries, or 12 lbs (5.4 kg) cut Chicken.
True "cold zone" prevents carbonization of crumbs, helps to extend oil life.