EOF-20/24/24
Banked Electric Open Fryer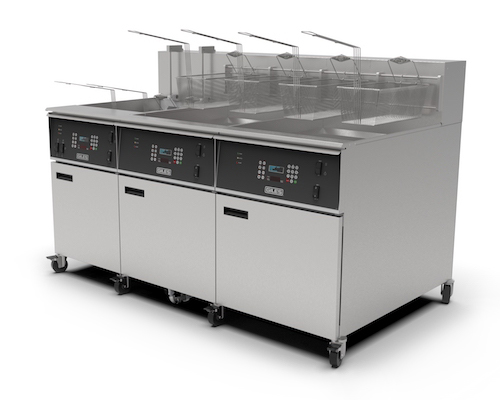 Specifically designed for ultra-high volume foodservice operations with a need for a space- saving configuration. This Electric Open Fryer banked fryer system features (1) 20" Vat and (2) 24" Vats without a built-in Dump Station, thus occupying approximately 25% less hood space than our other 3-Fryer banked unit.
Features (1)-20" Vat and (2)-24" Vats in a single banked battery. Frying power: 20" Vat has 20 kW … 24" Vats have 30 kW each. Oil capacity: 20" Vat holds 115 lbs (52.2 kg) … 24" Vats hold 170 lbs (77.1 kg) each. Product capacity (ref. product: 8-way cut, bone-in chicken): 20" Vat cooks 27 to 30 lbs (12.2 > 13.6 kg) … 24" Vats cook 36 to 42 lbs (16.3 > 19.1 kg) each. Fast temperature recovery helps minimize cooking cycle times ... oil quickly reheats to cooking temperature after fresh product is loaded, helping to reduce oil saturation. Computer Controllers with intuitive operator interface, features 50 programmable Menu Item cook cycle presets (including cooking temperature on 10" wells), dual basket Timers on 24" unit, Auto-Cool Mode, Force-Filter prompt, Boil-Out function, password security option, and multiple language selections. Auto-Basket Lifts are a standard feature on the 20" Vat and can optionally be added to the 24" fryer as well. Central on-board oil filtration system features powerful ½ HP Pump for quick and efficient filtering; single Filter Pan serves all units. Heavy-duty casters; front casters lock.