EOF-10-10/20
Banked Electric Open Fryer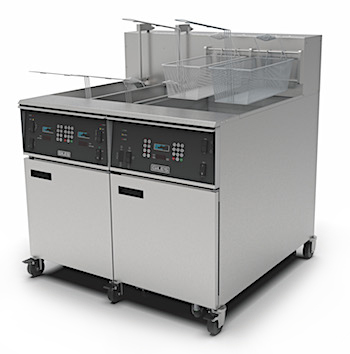 Take your productivity to a new level and 'bank' the profits with a medium-capacity, multi-well, Electric Open Fryer battery. This smaller footprint, special configuration, EOF Fryer is designed for medium to large volume food service operations where it is important to cook large quantities of fried foods quickly & efficiently. The split-vat concept creates a 3-well fryer battery, providing (2) independent smaller 10" vats for seafoods or other specialty items.
Features (2)-10" vats and (1)-20" vat in a single fryer battery. The small vats are independent fryers ... no potential for flavor transfer if cooking a diverse menu. Cooking power: 10" vats = 12 kW each ... 20" vat = 24 kW. Oil capacity: 10" vats = 57.5 lbs (26.1 kg) each ... 20" vat = 115 lbs (52.2 kg) Product capacity (ref. product: 8-way cut, bone-in chicken): 10" vats cook 12 to 15 lbs (5.4 - 6.8 kg) each ... 20" vat cooks 27 to 30 lbs (12.2 - 13.6 kg). Rapid temperature recovery helps minimize cooking cycle times ... oil quickly reheats to cooking temperature after fresh product is loaded, helps to reduce oil saturation. Computer Controllers with intuitive operator interface, features 50 programmable Menu Item cook cycle presets, basket timers for each basket, Auto-Cool Mode, Force-Filter function, Boil-Out program, password security option & multiple display language selections. Auto-Basket Lifts are a standard feature on each of the 10" vats & can be added to the 20" vat as an option. Central on-board oil filtering system features powerful 1/2-hp pump for quick & efficient filtering ... system services all fryers. Heavy-duty casters; front casters have locking brakes.
VIDEOS