Xpress-peditor Landing Table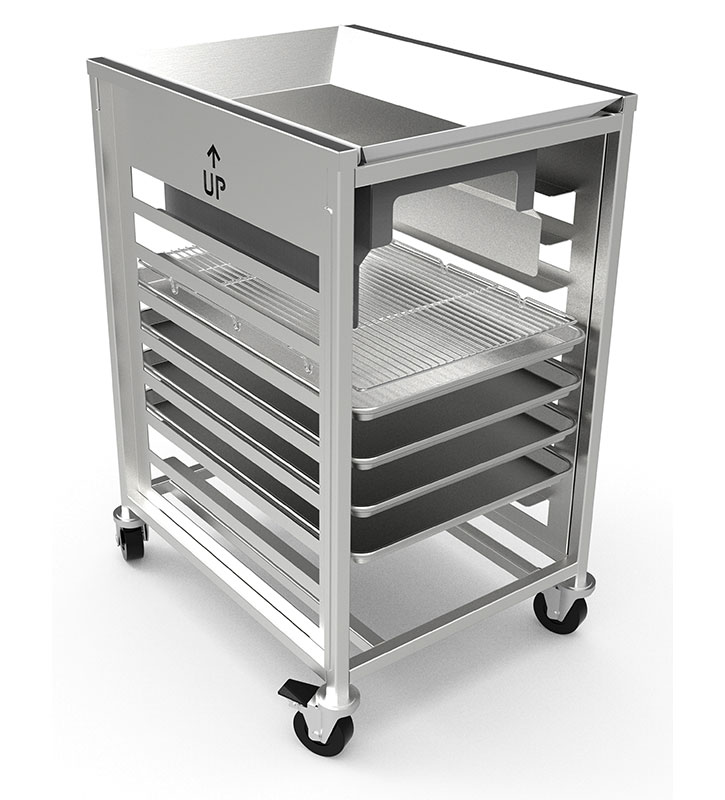 LT-4
Unique, multi-functional, piece of support equipment that functions as a utility cart, cooked product dump station, food prep table, and more. Designed to serve the many needs of a busy kitchen and food service business.
Portable Dump Station … easily unload cooked product from the fryer directly into a steam table pan ... the funnel concept helps reduce spillage and waste.
FIFO rotation system for point-of-sale … place pan of fresh product on rack beneath funnel ... transport to point-of-sale ... dump remaining unsold product on top of fresh, then place full pan for serving … older product is "first out" for sale.
Place a sheet pan on top of the cart to create a portable work surface. Put cutting board in the pan for prep work ... drippings and scrap are contained in the pan.
Place additional sheet pans on lower racks to provide more space to move fresh food pans or soiled items.
3-1/2" swivel locking casters provide easy 4-way maneuverability … when locked, a stable work table is provided.
Durable stainless steel construction; racks & funnel are easily disassembled without tools for clean-up.
Multi-functional ... saves space in a crowded kitchen.