Ventless Recirculating Oven Hoods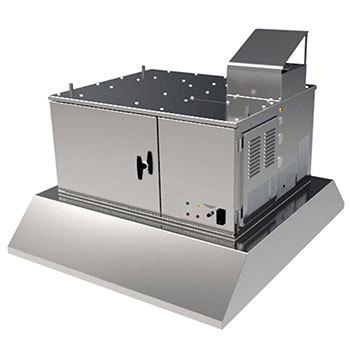 OVH-10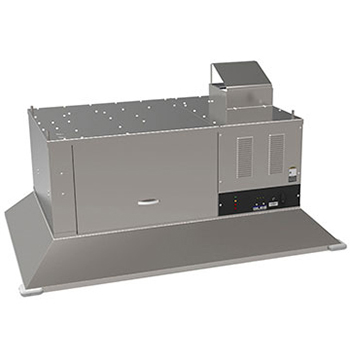 PO-VH
Giles Ventless Oven Hoods are certified "Limited" Type-1 recirculating Hoods features our proven air cleaning technology, and eliminates the necessity for expensive kitchen modifications and costly conventional ventilation Hoods with ductwork venting to the outside.
Durable stainless steel construction. Designed primarily to fulfill requirements for electric Oven applications … Convection Ovens, Conveyor Ovens, Pizza Ovens, Rotisseries, etc. Can typically be installed where conventional ventilation hood solutions are prohibited or are too costly for the budget, opening foodservice opportunities in many non-traditional spaces. 3-stage air cleaning system with Baffle Filter, Electrostatic Air Cleaner, and Activated Carbon Filter for odor control … exceeds emission requirements of UL197 (applicable UL710B sections). A wide variety of appliance specific Hood Skirts are available, which allow direct mounting of Hood to many popular oven models … If we don't have a skirt, the Universal Ceiling Mounted model is appropriate for most any approved appliance. As an available Option, Hood can be factory pre-plumbed (piping, nozzles, detector brackets, conduit) ready for connection to an external Ansul R102 fire suppression system (not included, system purchase and installation customer supplied). HEPA Filter versions also available.
OVH-10:
36" wide Hood, designed specifically for small, lower power, electric Ovens.
PO-VH:
60" standard width Hood, designed specifically for large electric Ovens … 72" optional width also available.