GBF Series – Ventless Fryer Bank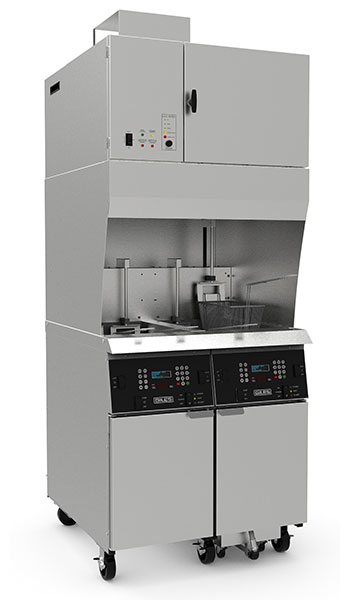 PRODUCT OPTIONS: GBF2-50-GVH
Two (2) well, Square Vat Open Electric Fryer with integral Ventless Hood. May be suitable for cooking deep fried menu items in sites where traditional ventilation hoods are impractical, prohibited, or simply too costly. Get the same dependable, high efficiency performance of the GBF Fryer in a two-well banked system. Expand the menu and turn more loads per hour with ease.
Durable stainless steel construction for long life and easy cleaning.
Two 14" Fryers under integral Ventless Hood.
Ventless hood technology may allow use in many non-traditional sites; eliminates need for costly ductwork and building modifications required to vent outside.
Computer Controllers features 50 programmable Menu Item cook cycle presets, Auto-Cool Mode, Force-Filter feature, Boil-Out function, fryer operations monitoring, password security option, and multiple language selections.
Automatic Basket Lifts can be added as an option on one or both units. Units include Hangers when auto-lifts are not used.
Central on-board oil filtration system serves both units and features powerful ½ HP Pump for quick and efficient filtering.
The integral hood is factory pre-plumbed with internal piping, discharge nozzles, fusible link detector brackets, cable conduit & wire rope and is ready to be connected to a customer provided, approved fire suppression system (Ansul R102 wet chemical). Purchase of the system, field installation/set-up, testing & commissioning is completely the responsibility of the customer; not included.
Durable and reusable stainless steel filter screen eliminates filter paper cost and waste.
Heavy-duty casters; front casters lock.
Oil capacity: 50 lbs (22.7 kg) liquid shortening per vat.
Product capacity: cooks 5 lbs (2.3 kg) French Fries, or 12 lbs (5.4 kg) cut chicken per vat.
Deep "cool zone" prevents carbonization of crumbs, helps to extend oil life.